Where we belong
FCBCLA has something wonderful for children of all ages! From the love and care of our nursery workers to the faith challenging lessons of Sunday School and Children's Church, we know your child will grow in their walk with Jesus Christ.
Sunday Mornings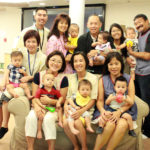 Our nursery workers communicate God's love to every 2-month to 2-year-old who comes through our doors. Through play, songs and stories, children begin to discover God's love for them.
Our 3-year-old to kindergarten children participate in a hands-on, interactive experience as they sing songs, create crafts and discover who they are in Jesus Christ.
Our Children's Worship builds on the faith and life lessons children learn in Sunday School. Through worship, messages, crafts and application stations, children are prepared to live the Christian life for the week ahead.
Sunday Afternoon
Children's Choir is starting up again for 2018-2019 under the direction of our Children's Choir Director, Annie Hung. Annie will be leading the choir which is for children from Kindergarten through 5th grade. During the fall quarter of the church year, the children will be learning music theory, singing praises to our Lord, and performing at different worship services. For more information, please contact Shirley Chow at sszetochow@gmail.com
Friday Nights
Friday Night Boys and Girls Club:
After a long week at school, 1st-5th grade boys and girls look forward to church where they have a fun and exciting time of play, crafts and activities. We also have a small devotional about faith and life.
Summer Activities
We hope you join us each week as we learn, grow and partner together to help children become fully devoted followers of Jesus Christ.
Friday Night Parenting Series: 
Children are a wonderful blessing from God, but parenting is not easy and full of challenges. This year, we have special classes that will provide parents and caregivers the necessary tools, techniques and training to help navigate the challenges we face as parents. So, mark your calendars, save the date and join us for our Friday Night Parenting Series!
February 22 – Your Child's Love Language
March 22 – The Birds & The Bees (Sex Education)
April 26 – Coming Alongside Single Parents
May 31 – Helping Kids Manage their Feelings
June 28 – Family Summer BBQ
Because every parent wants to be a better parent.