A JOURNEY WITH JESUS THROUGH PASSION WEEK
(Mark 14:1-11; Philippians 2:5-13)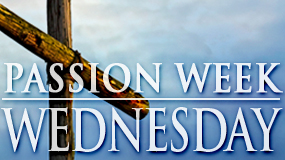 On this day, Jesus spent time with friends in Bethany. The night before, at a dinner gathering hosted by these friends, a woman brought an alabaster vial of expensive perfume and poured it on Jesus' head. Those who saw this thought it was a waste and scolded her. But Jesus, knowing that He would be facing death on the cross just a few days later, praised the woman for this generous act of love and devotion. At this same gathering, Judas Iscariot made the decision to betray Jesus. Jesus knew Judas would betray Him, yet He did nothing to stop this betrayal. For it was His ultimate fate to die on the cross for the sins of the world, an unselfish act of love for all of us.
The woman who broke the alabaster vial for Jesus was bold in declaring her love for the Lord. She lavished Him with worship using this jar of perfume. How lavish is your worship of Jesus? What is holding you back from freely worshiping Him? Spend some time worshiping Him now.
Jesus was determined to be obedient to the will of His father, even if it meant death. Is there something that God wants you to do that you have not followed through with? Confess this to Him now. Ask for His help. He is faithful and will give you the courage to do what you need to do.