A JOURNEY WITH JESUS THROUGH PASSION WEEK
(Mark 11:20-24; Mark 13:1-13)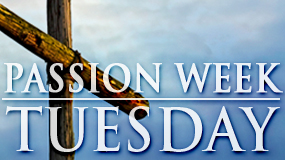 On this day, Jesus spoke with His disciples about faith. The fig tree that He cursed the day before was withered at the roots, no longer able to produce fruit, thus fulfilling what Jesus had pronounced upon it. He used this incident to teach the disciples to have faith in God… to believe that God can answer any request they asked of Him. Later that day, on the Mount of Olives, Jesus spoke of the things to come… a time of war and strife, a time when many would rise to speak false things in the name of Jesus, a time when believers would be persecuted for their faith. Jesus encouraged the disciples to be faithful to endure to the end, trusting God to give them what they needed to persevere.
Do you believe that God answers your prayers? It may not always be the way that you want Him to, but He does answer with what He thinks is best for the circumstances and situations you pray for. Ask God to give you more faith as you pray to Him.
The passage in Mark 13 speaks of what is happening in our world today. Wars and heinous acts of violence are occurring in many places. Christians are increasingly being persecuted, even martyred for their faith. The level of persecution is rising even here in the United States. What will you do if you are asked to suppress, or even renounce your faith in God? Will you be faithful to Him?