A JOURNEY WITH JESUS THROUGH PASSION WEEK
(Mark 14:12-72; Hebrews 5:7-10)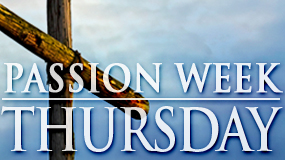 On this day, Jesus and His disciples shared the Passover meal together. It was the first communion. After dinner, they went to the garden of Gethsemane to pray, but the disciples could not stay awake. Once Jesus' time of prayer was over, Judas Iscariot carried out the betrayal. Jesus was arrested. Standing before His accusers and the high priest, Jesus endured false testimonies of wrongdoing, but He said nothing to defend Himself. Jesus understood the fate that God had prepared for Him, and He was obedient to the Father's will. Sadly, all of his supporters and followers had scattered. None stood by to defend him. Even Peter denied knowing Jesus three times, just as Jesus prophesied.
Peter loved Jesus and yet, Peter failed. He denied knowing Jesus, denied being one of His followers. Peter said he would never deny knowing Jesus. It must have shocked Peter himself when he heard the rooster crow after the third denial. Imagine the shame Peter felt, the guilt that overwhelmed him. He had betrayed his Lord, his Friend. Often, our actions speak louder than our words. We say we want to live for Jesus, and yet there are things we do that cause us to "blend in" with the world rather than distinguish ourselves as followers of Christ. Are there things you have done that you regret? Have your actions shamed Jesus in any way? Confess before Him now. He will forgive you, just as He forgave Peter.
The passage in Hebrews 5 tells us that when Jesus prayed, He asked God to deliver Him from death. The amazing thing is that in v. 8, we discover that Jesus "learned obedience from the things which He suffered." Jesus had to learn to obey and submit to the Father's will in order for Him to die on the cross for all of us. Obedience is not always easy. It may require suffering. It may mean enduring hardship. What challenges are you facing at this time? Talk to God about it. Ask Him for strength to endure. Learn obedience in the circumstances you are in.