Born, Raised, Buried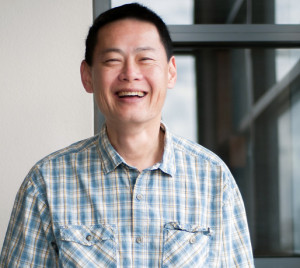 I was asked to share a story to illustrate why I've chosen to stay at FCBCLA since birth.  I was the first child born after our church was established.  Even though FCBCLA is celebrating its 63rd anniversary, I'm not quite 63 years old. This story illustrates why FCBCLA is still my spiritual "home."
In junior high, Kenny was my RA counselor and basketball coach.  A strict disciplinarian, he taught me the value of hard work, mental toughness, and a no-nonsense approach to life.  We kids would be goofing off, but when Kenny walked by, we stopped until he was out of sight and then resume goofing off.  I remember vividly how he taught me toughness during basketball practice.  I admit it, I was a "mama's boy" and got pushed around a lot underneath the basket.  During a rebounding drill, he had me rebound underneath the basket and shoot the ball back up.  The first time, he blocked my shot from behind. The second time, he fly-swatted the ball out of bounds. I was about to cry.  Kenny shook his head and said, "Watch."  We switched places and I stood behind him.  He rebounded, stuck his butt out to "create" space around him, faked, and took the shot back up.  "Now you do it."  I never had my shot blocked from behind again.
Somehow, I got assigned to Kenny's cabin during one summer camp.  When I found out, I almost cried again.  Not really, but I can tell you I was NOT looking forward to that camp.  True to form, after we picked up our luggage and got into our cabin, Kenny's first order of business was going over the ground rules for the cabin.  No other cabin had ground rules, but Kenny had his and it created order when camp could just have been about fun and goofing off all the time.  Instead, I learned about having fun and goofing off at the appropriate time.  Years later when I became a camp counselor, you know what I did with my campers the first time we gathered together?  You guessed it. I laid down the ground rules.  I saw the value in order and discipline, and the kids had a great camp. I got to sleep at night without having to worry about kids sneaking out or falling asleep during worship because they slept when they were supposed to.
Fast forward a lot of years.  My wife Suzie came home one day and told me we had to pray for Kenny.  He was really sick and it did not look good.  Up to that point, I had not heard from nor seen Kenny for a long time.  I hadn't thought about him at all until that moment.  I had a lot of questions. Was Kenny still going to FCBC?  Was he still walking with God?  Was he still mentoring others?  The answers didn't really matter as I prayed.  I prayed fervently as if my own life depended on God answering my prayer to restore his health.  This was my friend and mentor. I wanted him to live and not just live, but to live a life rededicated to God.  It was a long struggle, but God restored Kenny to full health.  The best part of this story is that Kenny came back to serve in RA's again.  He is literally and spiritually a new man.
Why do I call FCBCLA my home?  Over the years, many people have come and gone.  Many pastors have come and gone, but what is the one constant?  God has been faithful to preserve His church. This is where God's grace was given for my salvation. I've witnessed restored lives. I was given opportunities to reach out and support the local body of Christ.  This is where I was born, raised, and God willing, I will be buried. So dramatic, but true.