Life Stories @ FCBCLA by Tedmond Dong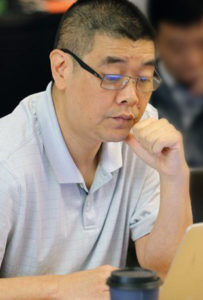 My story began 20 years ago, but it feels like a whole lot longer than that. I used to travel quite a bit for work. I was sitting in my cubicle in San Jose staring at the computer screen when I noticed something strange. As I looked at the screen, vertical lines did not appear straight. There was a "hump" in the windows on my screen. I rubbed my eyes a few times thinking this would clear things up, but it didn't. I covered each eye separately and found that this distortion was coming from my left eye. I then called Dr. Gerry Gee, my optometrist, and described to him what I was seeing. Gerry's diagnosis was macular degeneration. I had no idea what that was, so I immediately turned to the internet to search for it. What I learned was that it was a common eye disorder but it normally happens to older individuals in their 70's or 80's. Gerry referred me to an ophthalmologist and highly recommended that I not wait.
So, I made an appointment and traveled back home to see the doctor. When I saw the doctor, the first thing he said as he peered into my eye was that it was not macular degeneration. There was a sense of relief but it was short lived. He said, rather, that I had a condition called subretinal neovascularization (a fancy medical term for bleeding under the retina). Normally, the treatment would be to use a laser to cauterize the bleed, but since the bleed was so close to the macula (the part of the retina that we use to read) the procedure would probably cause more harm than good. The ophthalmologist also showed my scans to another doctor who agreed with the assessment. I asked if there was anything that could be done and the answer was no. There was a better chance of the bleeding to stop on its own and for my eye to heal itself. I did not like that answer so I sought a second opinion. I went to the UCLA Jules Stein Eye Institute and was able to see the Dean of the department. Unfortunately, his assessment was the same. There was nothing that could be done. While all this was happening, the distortion kept getting worse. If it did not stop, I could expect to lose sight in my left eye. I left Jules Stein and wandered around the campus feeling depressed and hopeless. I sat down and cried out to God asking Him, "Why is this happening to me?" I went home fully expecting to go blind in my left eye.
My parents are typical Chinese parents – not very expressive outwardly, but inwardly they were very concerned for me. They did not give up. If western medicine could not help, then Chinese medicine certainly could. My parents found a Chinese herbal doctor who was an ophthalmologist in China, but was not licensed to practice in the U.S. I also later found out that she was a Christian. During the entire time I was seeing her, she was praying for me. She knew my condition and had success treating it in China. I admit I was skeptical, but I had nothing to lose so I went to see her. She prescribed some awful tasting Chinese herbs. By this time, the bleeding had progressed so much that I had lost all central vision in my left eye and the distortion kept getting bigger by the day. Every morning, I would wake up and look in the mirror to track how much worse it had become overnight. After the first night of taking the herbs, I looked in the mirror and to my surprise, the distortion did not grow. In fact, it was smaller. The herbs worked and the bleeding stopped. Praise God for Chinese medicine! Unfortunately, the bleeding caused the retina to separate from the back of the eye for too long and scar tissue developed which resulted in that part of the retina to atrophy. I no longer had central vision in my left eye, but I still had peripheral vision.
Losing the central vision in my left eye meant that I no longer had depth perception. I could no longer catch anything thrown at me or judge distance with any amount of accuracy. Growing up, sports was a huge part of my life. I played a lot of volleyball and softball, but both sports were nearly impossible for me to participate in since I no longer had depth perception. While I was disappointed by not being able to play any sports, I did find comfort in being able to still work and drive (yes, in California all you need is one eye to drive). Early retirement from sports was not a bad thing. After all, in the words of the wise Gerry Gee, "You better be careful, Don't get hit in the head. You only have one good eye left." Wise words to live by.
The vision in my left eye stabilized. It was not getting worse nor was it getting better. I learned to adjust to this loss and life moved on. Fast forward 12 years. Remember Gerry's wise words? Well, you can guess what happened next. I won't go into details, but suffice it to say I was accidentally hit in the right eye. Initially, my vision was unchanged and the whole evening I breathed a huge sigh of relief. The next day started like any other. I was actually conducting some training for a customer in the City of Industry. During one of the breaks, I noticed a huge amount of floaters and clouds in my vision. So, I picked up the phone and called Gerry (by now, he is on my speed dial). Gerry's diagnosis was a detached retina. Not wasting any time, I left work and immediately headed over to see the ophthalmologist. This time, Gerry was right. I did have a detached retina. Since they caught it so early and the detachment occurred far away from my central vision, they were able to fix it with a laser treatment. The floaters and cloudiness would eventually subside, but did not completely dissipate. Aside from more floaters, the vision in my right eye was otherwise unaffected and life moved on.
(TO BE CONTINUED)