Jesus is the Bridge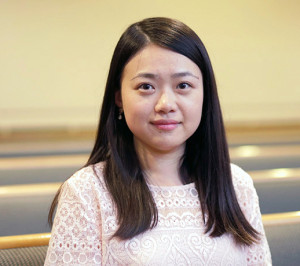 I grew up in a very traditional Chinese family. My father was always out on business trips. My childhood memories of my father are very minimal. As a traditional father, he was not good at expressing his thoughts or feelings. His way of expressing love and care for the family was only through actions, which I did not understand as a child.
As I grew up and reached my rebellious teenage years, I felt more and more disconnected from my father. The fact that he went to the U.S. in 2007 didn't matter to me back then, because it didn't matter to me where he went. However, our conflicts grew more severe when I came to the U.S. in 2010. Sometimes, he would burst out in anger when he tried to discipline me.  That would hurt me so much and make me very sad. In return, I would burst out in greater anger thinking that was the best way to respond. This vicious cycle kept perpetuating itself. During this period, one of my cousins brought me to church, and I came to know Christ as my Savior. When Jesus came into my life, He miraculously changed everything.
My heart was filled with peace and joy when I accepted Jesus into my heart. When my father burst out in anger towards me, Jesus miraculously removed the anger in my heart. As I stopped rebelling against my father, his bursts of anger also started to decrease. Jesus continues to change my relationship with my father. He opened my eyes to see and feel my father's love. Because I was convinced that my father did not love me, I felt that he did not have the right to discipline me. During our conflicts, Jesus showed me how my father loved and worried about me. As I grew closer to Jesus, I started to see my own sins more clearly. Because I did not understand my father, I always thought that he owed me everything so I took everything he did for granted. A person cannot sense love when they do not have a grateful heart.
One day, the Lord enlightened me to see my father's love towards me. I saw how sinful I was. When I saw how indebted I was to my father, I began to weep bitterly before the Lord. Afterwards, I called my father to apologize and express my gratefulness to him. My father was shocked. He didn't know how to respond except to comfort me. When my father's birthday came, I wrote him a card for the very first time. I told him about the amazing changes Jesus did in my life, how grateful I was in my heart, and how I loved him. The grace that Jesus poured out in my relationship with my father was beyond words. When Jesus says that He is the Way, the Truth, and the Life, He is indeed! His words are fulfilled in my life and my family's life. I now have a great relationship with my father which was unimaginable before. I thank Jesus for restoring my relationship with my father while my father is still healthy, and l am still young, so I won't have any regrets when I am old. When I recall the changes Jesus made in my life, my heart is melted by His grace, and filled with gratefulness. All praise and glory unto Jesus our Lord!
米瑞雪 Rachel Mi