Amor House-building by Kristina Yano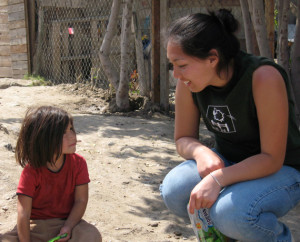 Eight years ago, I went on my first Amor trip to Tijuana, Mexico. I decided to go because I had a heart for Spanish speakers, and the idea of building a house caught my interest. In two days, I was captivated by the interaction with the Mexican people, serving them in a very tangible, hands-on way, and seeing how the house brought so much hope. It was a magnetic experience that has drawn me back four times since then. God has grown my love for the Mexican people and affirmed how much a house blesses the families. I keep going to Mexico, sleeping in tents, and mixing endless tubs of concrete because of an ongoing desire for the Mexican people to experience the love of Jesus.
Participating in these house-building trips has allowed me to see beyond the comfortable, yet so easily complained about life here in the US. It is striking to experience the joy and generosity of the Mexican people, though materially, they have so little; it puts how much I have and what it means to be grateful into perspective. This has propelled me to use what God has given me – two hands and broken Spanish – to serve Him, allowing me to see Him work through my humble willingness. The fact that in two days, a team of non-construction people, without power tools, can build a foundation and erect the frames of a house is a testimony in itself to God's power and grace!
Every year at the end of our last workday, I am burdened with the hope that the family experienced God's love because of our work and that this would bring lasting spiritual change in their lives, even after we leave and the house is completed. I hope and pray that out of God's grace, they would not just receive a house, but receive His salvation. May God use our work and the houses we build to be a powerful and enduring testimony of the hope, goodness, and love of Christ both to the family and to the community.
Kristina Yano