Dear Parents,
We are excited about the positive changes being made to unify our Children's Ministry.  One of the most important changes is to use the same Bible translation as the rest of our church.  Starting this Fall, the Christian Standard Bible (CSB) will be used in the Children's, Youth and Adult ministries for scripture reading, preaching, teaching, and PowerPoint.  The change is made for the following reasons: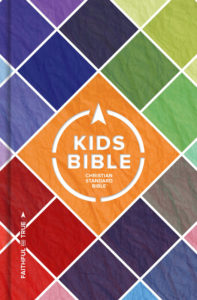 1) Optimal Translation – "Research shows the CSB Bible is both highly literal to the original languages and highly readable, achieving an optimal balance of the two."[1]
2) Readability – "The CSB Bible is written at a 7th grade reading level, making it easier to read than the NIV."[2]
3) Unity with FCBCLA – We will be aligned with the greater purposes of the church by using the CSB along with our other English-speaking ministries.
4) Family Bible Reading – With families learning God's Word from the same translation, we hope that fathers, mothers and children will study the Bible together.
Our Children's Ministry has selected the CSB Kids Bible as the preferred Bible translation to be used from 1st through 5th grade.  Here are answers to some Frequently Asked Questions:
Do my kids have to switch? – No, but it is highly recommended. All teaching and preaching will be done from the CSB translation.
What if my child already has a NIV Bible? – If the NIV Bible is in fairly new condition and has no marks or tears, it can be traded in for a CSB Kids Bible. Old NIV Bibles will be given away for evangelism purposes.
When will the CSB Bibles be sold? – The CSB Kids Bible will be sold after Labor Day.
Where will the CSB Bibles be sold? – Our Children's Registration Table will handle all Bible sales and trade-ins.
How much is each CSB Bible? – $8 per Bible (original cost is $20 per Bible).
For more information about the Christian Standard Bible, please check out their web page at https://csbible.com or contact brianwang@fcbc.org.
In Christ our Lord,
Brian Wang
Children's Minister