Trailblazers is FCBC's ministry for English-spkg adults age 55 and older. We offer friendship, support, shared wisdom, a spiritual perspective on life, and an opportunity to still make a difference in this world. Blazing a new trail in reinventing this stage of life, we strive to overcome its unique challenges and finish well, please Christ, and set an example that younger generations can follow.
Trailblazer Small Groups

Our Trailblazer small groups have begun.  This session, we are going over the book Radical by David Platt.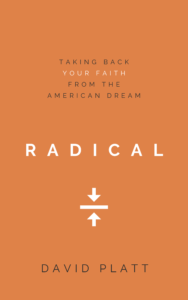 Platt's book calls us back to the fundamentals of what it means to be a follower of Christ and challenges us to consider just how much America's obsession with obtaining the "American Dream" has influenced Christian thinking and lifestyles today.  Join us as we engage and encourage one another to think more carefully about what Christ's calling is and how we can faithfully live it out.
Our small groups meet once a month in various locations around the city.  Here are our small group locations and contact information.  Our groups are currently on summer break but will re-start in Sep/Oct.  Please send an email to the designated contact person if you would like to find out when and where the groups will be meeting.  We hope you will make plans to be a part of this upcoming session!
Chinatown, MPK: George Lo –georgelo@sbcglobal.net
Temple City, SGV: Art Woo – aacljw@sbcglobal.net
La Canada, Burbank: DeDe Ching – ddching@sbcglobal.net
Culver City, West LA, South Bay: Richard Wong – rtlwong@yahoo.com
Trailblazer Monthly Fellowship

Meet the newest member of our Pastoral Staff, Rev. Wayne Chi.  Come and hear his spiritual journey and have an opportunity to interact personally with him.  It is a great opportunity to build a connection with the pastor of a ministry that is a part of our church but we don't know much about.  Hope you can join us!
Time: Tue, Jan 14, 10:00am-12:00pm, light breakfast included
Location: FCBC Praise Center
Cost: $7/person
To let us know you are coming or to get more information contact:
DeDe Ching at: ddching@sbcglobal.net
HOMBre

HOMBre is the "Hungry Old Men's Breakfast", a monthly gathering of men who have the time and a desire to fellowship and pray with other men.  We meet the FIRST Tuesday of every month.  Our next mtg. is Jan 7, 9-11am, at U2 Cafe, 1200 E. Valley Blvd, Alhambra (near Valley & New Ave).  Join us for a great time of mutual encouragement and support.  Cost is ~$10 as we share the cost of breakfast.  For more information, contact Tom Lim: tnlim@msn.com