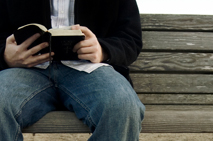 We strongly believe that the Word of God is the foundation upon which we all must build our lives.  We also believe that all adults can, and should, continue to be growing in their knowledge of the Bible and it's application to their lives no matter how old they are.  With this in view, we offer several adult Sunday School classes that offer a variety of subjects and learning environments all centered upon the Word of God.  Our classes are also small enough to provide good opportunities for interaction and connection with other students.  Come join one of our adult learning communities and grow together with us!
All Classes meet Sundays @ FCBC Life Center (North of the Worship Center), 9-10:15am.  Coffee and hot water/tea is available in room 210 at 8:30.
2019-2020 Sunday Classes

A STUDY OF PROVERBS: Glen Quon, LC 204
How do we live out our faith daily?  Where can we find words of wisdom? Proverbs.  Our class aims to help students:
Study and learn words of wisdom from Scripture;
Discuss what we've learned in a more intimate group setting (the class will be divided into small groups)
Apply what we've learned daily.
DEVELOPING BIBLICAL CARE: Rachel Chew, Mark Dresser, & Jonathan Lee, LC 307
We learn to fulfill the law of Christ by bearing one another's burdens and sharing God's comfort with others (Gal 6:1-3, 2 Cor 1:3-5). Part of our calling as believers is caring for others: when one part of the body suffers, the whole body suffers. Our goal is to help others mature in Christ, for His glory, and to point all people to the source of true hope (1 Cor 12:26, Col 1:28, 1 Tim 4:10). Through loving and patient biblical counseling training with full acknowledgment of the Word, we seek to admonish the idle, encourage the fainthearted, and help the weak (1 Thess 5:14, Col 3:6).
HIS LAST WORDS: Byron Cheng,  LC 301
If you knew that this was your last day alive, what would be on your mind, what would you do differently? What would you say to the people you love? Jesus was going to experience betrayal, imprisonment, torture, and execution. He knew that his loved ones would endure persecution and suffering. In this class, we will look at "His Last Words". A study of John 13-18 and the last things Jesus said and did at the Lord's Supper leading up his arrest and crucifixion. What legacy did He leave and what is His hope for us?
HEARING GOD'S VOICE: Art & Annie Woo, Sam Chin, Harvey Eng, LC 205
Does bewilderment appear like a curtain across your face when God calls you?  It makes a difference when you realize God just made a personal phone call to you.  You really pay attention when someone you have great respect for contacts you with a message meant especially for you.  That kind of contact motivates you to respond and take action.  Join us as we explore how God's speaks to us and how we should respond.
SPENDING TIME WITH GOD: Chris & Becky Tomokiyo, LC 202-203
We all know that it is important for our spiritual health to spend quality time with God but we don't always know how to do it.  Most Christians fall back on Bible reading plans and/or daily devotional blogs or booklets which are good and we will look at these.  But there are other ways that we can approach God and we will also be exploring and practicing some of these methods.  This is a "working" class, and we will be actually using these tools, so expect homework (you will need to spend time with God!).
THE BOOK OF JAMES: AUTHENTIC CHRISTIANITY— HOW REAL CHRISTIANITY MAKES A REAL DIFFERENCE– Carol Hwang, Julienne Fung, LC 207
The book of James is one of the most practical books of the Bible. For James, a faith that does not produce real life change is a faith that is worthless (James 2:17). He gives practical instruction and understanding of perseverance under trial, riches and poverty, wisdom, the danger of the tongue, prayer, and a faith that works—altogether, the instruction not merely informs your faith, it is transformative. This class will also focus on developing community among its members to make a real difference in each other's lives.  So risk making a commitment to this class to discover what riches are to be found for those whose hearts are open to the LORD and one another.
CHARACTER WITNESS– Dr. Wes Wong, Derek Wong, Jared Lau, Allen Lam, Gerry & Suzie Gee, LC 304
We will conduct an in-depth study of characters based on Hebrews 11. Our study will include negative and positive examples of faith. How was faith manifested to gain or lose God's approval? What was it about these people that God recognized their faith? What was God's role in the dynamics of faith? What did these people of faith "see" that the world did not see? More importantly, what does that mean to me in my daily walk with God? All important questions we will try to answer in a group teaching format.
DELIVERANCE TO DWELLING, A STUDY OF EXODUS– Casey Young, LC 306
Exodus is filled with rich stories, awesome displays of God's power and glory, God's holiness, and all centered on worship!  We will see God's deliverance and his desire to dwell with his people. Let's see God together!