A JOURNEY WITH JESUS THROUGH PASSION WEEK
(Mark 16:1-19; Acts 2:14-41)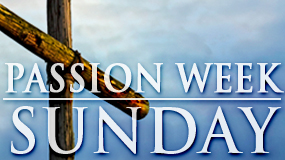 On this day, the followers of Jesus were mourning. Their beloved leader was dead, lying in a sealed tomb. Mary Magdalene and Mary, the mother of James, came to the tomb to anoint Jesus' body with spices but the tomb was open! Jesus was not there! An angel of God told the women that Jesus Christ was alive. He had risen! They were to tell Peter and the disciples to go to Galilee where they would see Jesus for themselves. Jesus then appeared to Mary Magdalene from whom He had cast out seven demons. He also appeared to two others on the road in the country. All who had seen Jesus told His disciples that He was alive, but they refused to believe it. Finally, Jesus Himself appeared before the disciples. It was true. Their Lord was really alive! Jesus spoke with His disciples, commissioning them to go and preach the gospel so that all who hear would believe and be saved.
Could someone who was dead really come to life again? Imagine the shock of the women and the disciples when they saw Jesus standing before them, alive and well! If Jesus had not risen from the dead, then all who believe in Jesus would be fools. Christianity would be a mockery. Faith in Christ would be in vain. But it IS true… Jesus IS alive! And because He is alive, we have been delivered from our sins and can have a relationship with Almighty God. Give thanks for this marvelous truth. Celebrate the resurrection of Jesus! It is truly Good News!
In Mark 16:7, the angel told Mary Magdalene and Mary to tell Peter and His disciples to go to Galilee where the risen Jesus would meet them. Wasn't Peter also one of the disciples? Why was his name mentioned specifically? Could it be that Jesus knew the remorse that Peter felt when he had denied knowing Jesus three times? Out of love, Jesus especially wanted Peter to know that He was alive. Seeing Jesus again and knowing that Jesus had forgiven him of his wrongdoing brought Peter out of despair, ready to serve His Lord. He and the other disciples were commissioned by Jesus to share the gospel. In the Acts 2 passage, Peter spoke boldly of Jesus and His resurrection from the dead. As a result of hearing Peter's preaching, 3,000 believed and were baptized!
Perhaps, like Peter, you have failed Jesus in some way. And maybe you have not forgiven yourself for this failure. If you have acknowledged what you have done wrong before God, be assured that you are forgiven. Ask God to help you to forgive yourself for whatever you have done wrong. Believe with confidence, that in spite of past failures, God can use you to do great things for Him. He used Peter, and He can certainly use you.