A JOURNEY WITH JESUS THROUGH PASSION WEEK
(Psalm 118:18-26; Mark 11:1-11)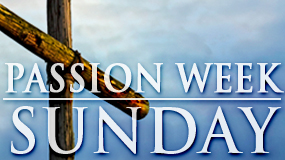 On this day, Jesus entered Jerusalem riding on the back of a young donkey. Crowds of people were gathered around Him shouting, "Hosanna!" What did they mean when they shouted this? The English word hosanna comes from the Greek phonetic spelling of the Hebrew phrase "hoshiya na" which means, "Help, save me!" This Hebrew phrase appears only once in the Bible in Psalm 118:25. This was followed in v. 26 with the exclamation, "Blessed is the one who comes in the name of the Lord." From the era of the Old Testament to the New Testament, the meaning of hosanna changed. When Jesus made His triumphal entry into Jerusalem on Palm Sunday, the shouts of "Hosanna!" meant, "Salvation has come! Hooray!" It was a shout of praise to the One who brings salvation!
Reflect on the time when you received Jesus as Lord and Savior. Offer up "Hosanna!" to Him with gratitude for what He has done for you.
Think of someone you know who needs salvation. Pray that the Good News of Jesus would touch that person and bring him into a relationship with God.